Chase Bank Routing Number.
All Chase Bank Routing Numbers (ABA Numbers), for California, Texas, New York, Florida, Illinois, New Jersey, Ohio, Georgia, Michgan and all other US States.
We have also included the routing number used for international wire transfers and instructions for incoming wire transfers.
What is a Routing Number?
A routing number or ABA Routing Transfer Number is an identification number that identifies a bank as a federal or state institution and proves that it has the option to maintain a Federal Reserve account.
A routing number identifies the bank which is used by an account holder.  A routing number is not the account number.
Routing numbers are necessary when paying bills by phone  or by using a check, reorder checks or when bank account holder want to set up a direct deposit.
The ABA Routing Transfer Number is necessary for the Federal Reserve Banks to process Fedwire funds transfers, and by the Automated Clearing House to process bill payments, deposits, and other transfers.
A Chase Bank routing number can be easily found on any check issued by a bank, as seen below.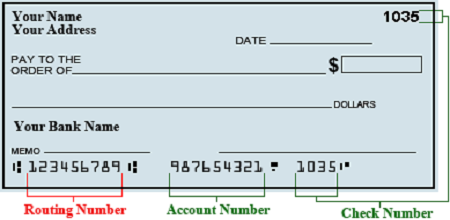 Chase Routing Numbers.
The Chase Bank routing numbers will vary depending on the location where the original  bank account was opened. We have listed the full list of current JPMorgan Chase Bank's routing numbers below.
| | |
| --- | --- |
| Chase Bank Routing Number | State |
| 322271627 | California |
| 071000013 | Illinois |
| 267084131 | Florida |
| 021000021 | New York – Downstate |
| 122100024 | Arizona |
| 022300173 | New York – Upstate |
| 061092387 | Georgia |
| 124001545 | Utah |
| 325070760 | Washington |
| 111000614 | Texas |
| 102001017 | Colorado |
| 021100361 | Connecticut |
| 051900366 | West Virginia |
| 075000019 | Wisconsin |
| 123271978 | Idaho |
| 044000037 | Ohio |
| 103000648 | Oklahoma |
| 325070760 | Oregon |
| 065400137 | Louisiana |
| 322271627 | Nevada |
| 021202337 | New Jersey |
| 083000137 | Kentucky |
| 072000326 | Michigan |
| 074000010 | Indiana |
JPMorgan Chase Bank International Wire Transfers.
All banks use the SWIFT network for  international wire transfers. SWIFT is an acronym of  "Society for Worldwide Interbank Financial Telecommunication".
Banks in the USA do not use IBAN account numbers, as most banks do in Europe.
Chase Bank Incoming International Wire Transfer Instructions.
When receiving an international wire transfer in your Chase Bank account, please use the following information.
Bank Name :
JPMorgan Chase Bank N.A.
SWIFT/BIC Code for JPMorgan Chase Bank N.A.
CHASUS33
Routing Transit Number:
021000021
Bank address, City & State :
JPMorgan Chase Bank N.A.
1111 Polaris Parkway,
Columbus, OH 43240
Beneficiary Account Number :
Your JPMorgan Chase Bank N.A. account number
(please include leading zeros)
Beneficiary Name:
The name on your account
Domestic Wire Transfer to Chase Bank
Domestic wire transfers are performed by the Fedwire system or the Clearing House Interbank Payments System (CHIPS).  Wire transfers are different from ACH transfers. An ACH transfer takes 2-4 days, and a Wire transfer is a real time transfer.
Incoming Domestic Wire Transfer Instructions for Chase Bank.
You can receive funds to your Chase Bank account from any bank within USA by using a domestic wire transfer.  The sender needs to provide these details:
Bank Name
JPMorgan Chase Bank N.A.
Wire Transfer Routing Number

021000021
Account Holder Name :
Your Account Name
Account Number :
Your Bank Account Number
Bank Address, City & State:
JPMorgan Chase Bank NA
1111 Polaris Parkway,
Columbus, OH 43240
Chase Bank Wire Transfer Fees.
Chase International Transfer Fee
Incoming
$15 per transaction
  Outgoing
$45 per transaction ( at branch)
$40 per (online)
Chase Domestic Transfer Fee
Incoming
$15 for each transaction
  Outgoing
$30 for each transaction (at branch)
$25 for each transaction (online)
Banks usually make an extra 1-2% on the currency conversion, so be aware of this. Use Transferwire.com or CurrencyFair.com as an alternative.
Wire Transfer Cut-off Time for Chase Bank
Wire Transfer daily Cut-off Time is 4 p.m. except for Private Banking clients who are scheduling wires from a Florida or California account. Wire Transfer daily Cut-off Time for Private Banking clients scheduling wires from a Florida account is 12:00 p.m. and California account is 3:00 p.m
Other JPMorgan Chase Bank Resources.
JPMorgan Chase Bank ABA numbers at Chase.com
JPMorgan Chase Bank Branch Locator
JPMorgan Chase Bank Wire Transfer Help FAQ
Definitions.
ACH Routing Number Definition:
ACH Routing Numbers is an acronym for for Automated Clearing House (ACH) routing numbers. This number is used for America electronic financial transactions. An ACH routing number is a nine digit number. The first four digits identify the Federal Reserve district in which the bank is located and the following four numbers identify the bank. The last number is referred to as a check digit number, which is a confirmation number. ACH Routing Numbers are used for direct deposit of payroll, federal and state tax payments, dividends, annuities, monthly payments and collections.
ABA Routing Number Definition:
Routing numbers are also known as "Check Routing Numbers", "ABA Numbers", or "Routing Transit Numbers" (RTN). The ABA routing number is a 9-digit identification number assigned to financial institutions by The American Bankers Association (ABA). The number determines the financial institution upon which a payment is drawn. Each routing number is unique to a particular bank, large banks may have more than one routing number for different states. Routing numbers may differ depending on where your account was opened and the type of transaction made.
Fedwire Routing Number Definition:
The Fedwire Wire Transfer service is the fastest way to transfer funds between business accounts and bank accounts in the US. It is used for domestic or international transactions in the USA, where the account balance is directly debited electronically and the funds are transferred to an account in real time. To complete a wire transfer, the sender must provide his bank name and account number of the recipient, the receiving account number, the city and state of the receiving bank and the bank's routing number.
IBAN Number Definition.
IBAN stands for 'International Bank Account Number', which is used in Europe, when making or receiving international payments. An IBAN doesn't replace the sort code & account number of European bank accounts. It is an additional number with extra information that helps overseas banks identify an account for payments.
SWIFT/Bic Code Definition.
The SWIFT Code is a standard format for Business Identifier Codes (BIC) that is used to uniquely identify banks and financial institutions globally. These codes are used when transferring money between banks, especially for international wire transfers or SEPA payments.  The Swift code consists of 8 or 11 characters. When 8-digits code is given, it refers to the primary office. When transferring money in Europe, you will often be asked for a SWIFT/Bic number.
Please share your experiences, questions or complaints about JPMorgan Chase Bank, in the comment section.
Rate your experiences with the company listed on this page. 1 to 5 stars.