WalmartOne Associate Login.
The complete online guide to the WalmartOne Associate Portal, the Walmart Wire Employee Portal, and HR Department contacts.
If you have lost your WalmartOne password, Walmart User ID or is having trouble logging in/signing in to the Walmart Associate Portal, then we can help.
WalmartOne (or Walmart1) is the official name of the employee/associate portal for Walmart workers. At WalmartOne, you can check your weekly work schedule, view your Walmart paystubs, see benefits information, and apply for holidays and days off (PTO).
You will need a WalmartOne Login in order to access the WalmartOne portal. Ask your manager for your Walmart IdentificationNumber (WIN), if you have not yet received it. You will need this number to register.
You must have your WalmartOne Login details ready when accessing the WalmartOne portal.
Walmart Wire, by contrast, is the work based employee prortal, that you can log into at yout Walmart work location. You cannot sign in to Walmart Wire from home.
The has now merged the WalmartOne and Walmart Wire portals in to one accessible website, at Walmart Wire.
Walmart Associate Login.
The official login page can be found at https://authn.walmartone.com/login.aspx.
If you alrady know your user ID and password, then you can just proceed with entering them and login. If you do not yet have WalmartOne user ID and WalmartOne password, then click on the "Register" link.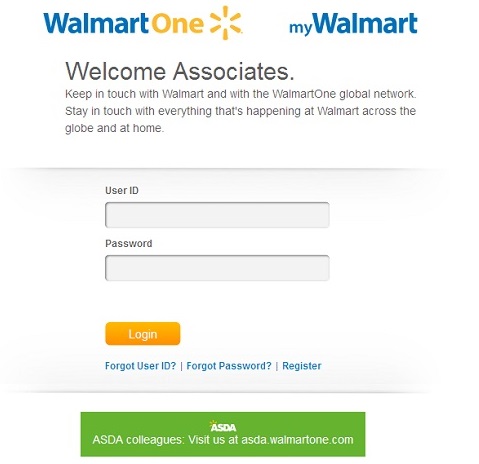 How to Register at WalmartOne.
On the WalmartOne registration page, enter the following information:
Walmart Identification Number (WIN)
Your Birthday
The hiring date
Your email address
Submit this information and you will receive an e-mail with your WalmartOne login information.
The WalmartOne App.
You can use the WalmartOne app to view your paystubs and schedule from your mobile device. Simply download the app though the links below.
iOS app is available at iTunes.
Android app is available at Google Play.
WalmartOne PTO (Paid Time Off).
PTO gives employees control over your time off, and flexibility in how you choose to use it. With PTO, you can plan ahead for holidays or family events.  And if you don't use it all, at the end of the Plan Year, an employees extra PTO will turn into cash.
How do I earn PTO?
Walmart Associates earn PTO hours based on your job status, how long you've been with Walmart and the number of service hours you've logged. You can  see the time off you've earned each pay period, and you can use your PTO as soon as you earn it.
How do I check my PTO?
Only way to check the PTO time is on the GTA Portal on the wire. Also, your PTO time, and any other time such as Personal will show up on your paystub too.
Read more about PTO here.
WalmartOne FAQ.
Answer: Go to the WalmartOne login page and click on 'Forgot Password?'. Your user name can be emailed to you if you request it, or you reset your password simply by answering the security questions that you have entered when you registered.
I want to speak to the WalmartOne HR Help Department. What is the phone number?
Answer: The WalmartOne support team is available at 1-800-530-9929 . Press options 2 then 2, when you are through.
More Info:
US Login:
Walmartone Login Help Page
WalmartOne (US Login)
Walmartone.com Login Help and FAQ.
Walmartone – Walmart Schedule
Helpful Resources:
UK Login:
Oursainsburys UK
Tesco Payslip View
Payslipview
UK Login:
ASDA Walmartone UK (UK Login)
ASDA Walmartone (UK Mobile Login)
Oursainsburys UK Employee Login
Share your experiences with WalmartOne, WM1 App, Walmart Wire below.
Rate your experiences with the company listed on this page. 1 to 5 stars.