TD Bank Routing Number.
See all available Routing Numbers (ABA Numbers) for TD Bank here, as well as information on how to perform a wire transfer to a TD Bank account.
A TD Bank Routing Number is a 9 digit ID number which is used for wire transfers, direct deposits from employers, check orders and other electronic transactions.
Routing numbers are sometimes called transit numbers, RTN or ABA numbers or RTN. Routing numbers are specific to certain region and type of transaction.
The TD Bank Routing Numbers.
These are the TD routing numbers currently in use.
| | |
| --- | --- |
| Connecticut | 011103093 |
| Florida | 067014822 |
| Maine | 211274450 |
| Massachusetts/Rhode Island | 211370545 |
| Metro DC/Maryland/Virginia | 054001725 |
| New Hampshire | 011400071 |
| New Jersey/Delaware | 031201360 |
| New York – Metro NYC or former Commerce customers | 026013673 |
| New York – Upstate NY or former Banknorth customers | 021302567 |
| North Carolina/South Carolina | 053902197 |
| Pennsylvania | 036001808 |
| Vermont | 011600033 |
You can also find the TD Bank routing number at the bottom LEFT side of your check, as seen below.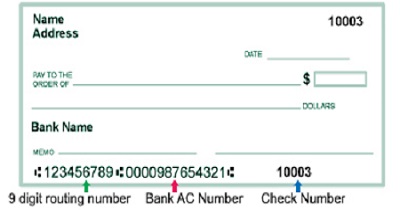 TD Bank Wire Transfer Information.
Incoming International Wire Transfers.
Use these detail to send funds TO a TD Bank account via Wire Transfer.
Bank Name :
TD bank NA
SWIFT/BIC Code for TD bank:
NRTHUS33
Routing Transit Number:
031101266
Bank Address, City & State :
TD bank NA
2035 Limestone Road,
Wilmington, DE 19808
Beneficiary Account Number :
Your complete TD bank account number. Please include any leading zeros)
Beneficiary Name:
The name on your account
Incoming Domestic Wire Transfers to TD bank.
Domestic US wire transfers processed by the Fedwire system or the Clearing House Interbank Payments System. Wire transfers are real time transfers.
The sender must provide these details to send funds to your TD Bank account.
Bank Name :
TD bank NA
Wire Transfer Routing Number :
031101266
Account Holder Name :
Your Name
Account Number :
Your Bank Account Number
Bank Address, with City & State:
TD bank NA
2035 Limestone Road,
Wilmington, DE 19808
Other TD Bank Resources.
Please share your experiences, questions or complaints about TD Bank, in the comment section.
Rate your experiences with the company listed on this page. 1 to 5 stars.